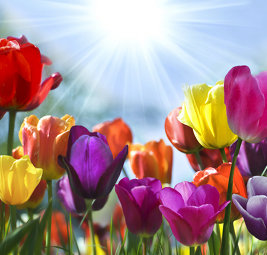 Nancy Lee Winterman passed away peacefully on Monday, September 24th surrounded by her loved ones.
Nancy was born in Charlie, TX on December 27th, 1924 to Mary Easter and Wheeler Wilson Gresham. She was the 3rd of 6 children, 3 boys and 3 girls. Nancy started working with the National Youth Association at the age of 16 during World War II, making $19/month. Many would argue she never quit working from there.
Nancy met the love of her life Joseph Daniel "Joe" Winterman in 1942 while working as a soda jerk at the Renfro Drugstore in downtown Ft Worth. The couple received their marriage license on July 3, 1944 and officially exchanged vows at 1am in the morning on July 4th in Weatherford, TX. Over the next 20 years, they had 4 children - Felicia, Felix, Mary, and Lena. Nancy and Joe moved their family to Burleson in 1977.
Once in Burleson, Nancy started an in-home babysitting business and found her niche with local teacher's children. These children and their families became a huge part of Nancy and Joe's lives for the next 22 years until she retired from babysitting in 1999. Even after retirement, she continued to look forward to visits, calls, cards and general updates from "her" kids.
Nancy will be remembered for her strong work ethic and positive outlook on life. She loved to laugh and loved to have a good time. She loved her family unconditionally and was truly the rock for so many who were close to her.
Nancy was preceded in death by her husband, Joseph Daniel Winterman, daughter Felicia Bounds and son-in-law Joe Bounds, daughter-in-law Frankie Winterman, and son-in-law "Bob" Killion. She is survived by her sister Euna Jo Templeton, brother Otis Gresham, son Felix Winterman of Grandview, TX, daughter Mary Goldberg and husband Jerry of Richmond, TX, daughter Lena Kay Baggett of Burleson, TX, 12 grandchildren, and 17 great grandchildren and 3 great-great grandchildren.
Graveside service will be held on Thursday October 18, 2018 at 11:30am at Greenwood Memorial Park - 3100 White Settlement Rd. Fort Worth, TX.
Memorial contributions in Nancy's honor can be made to Susan G Komen for The Cure, the Lung Cancer Foundation of America, or other charity of your choice.

To send flowers or a memorial gift to the family of Nancy Lee Winterman please visit our Sympathy Store.
To read the full obituary, please click here: http://www.guardiancremation.com/obituaries/Nancy-Winterman/
Tributes
There are no tributes yet.