Support for photo editing
Ever had a situation where you or a visitor uploaded an image to an obituary then found out that it loaded sideways or wished it was zoomed in a bit more? Funeral Innovation now supports photo editing! With our new image editor tool, you now have the ability to crop, and rotate images within your case manager. This is a handy tool that is available for all photo tributes as well as obituary profile images.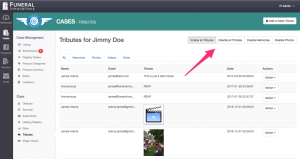 Disabling Tributes Posts
Some families want to prevent having anything posted on their loved one's memorial pages. In the past you had to contact us to disable tribute posts on the pages. Funeral Innovations is happy to announce that you now have the ability to disable tributes made to an obituary from within the case manager. We've added four prominent buttons from within the tributes section of a case to allow accounts to Enable all Tributes, Disable all Tributes, Disable Memories, or Disable Photos.
Contact us to learn more or get started now.