It's always interesting whenever the death care industry is in the mainstream media, in this case, social media. Yesterday, one of the trending topics on Twitter was the hashtag #My4WordObituary. This is just one of the hashtags used yesterday on Twitter, among more popular hashtags such as #tuesdaythoughts, #thebachelorettefinale and #internationalcatday. (You'll also find this hashtag has leaked some onto Facebook, although it isn't as popular as Twitter).
It is unclear who started the hashtag #My4WordObituary, that reached over 2 million people. The idea of the hashtag is to choose four words that describe your obituary – how you were to die. To give you some insight to what we're seeing, here are a few tweets with this hashtag: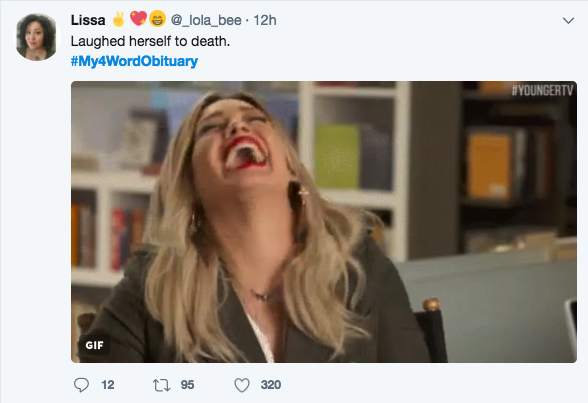 As we've looked through these tweets, we have found some similarities. Many of them are 1. political or 2. funny (and sometimes both). Many of the four-word phrases are jokes! A lot also tend to reference overindulging on a passion or obsession in the four words. We see few that are serious and genuine.
Not to get into too much more detail about social media, psychology, and why people share with hashtags at all, it is interesting to see that this type of post could even trend.
Not too long ago, before all of the sharing on social media, topics relating to death and dying were more hush-hush. Seeing that a hashtag relating to the death care industry can trend on social media, shows how the language around the subject is really changing.   
We'd love to hear from you on this topic. Do you think that people talking so light-heartedly about death and dying is good? Helpful or hurtful? Comment below.