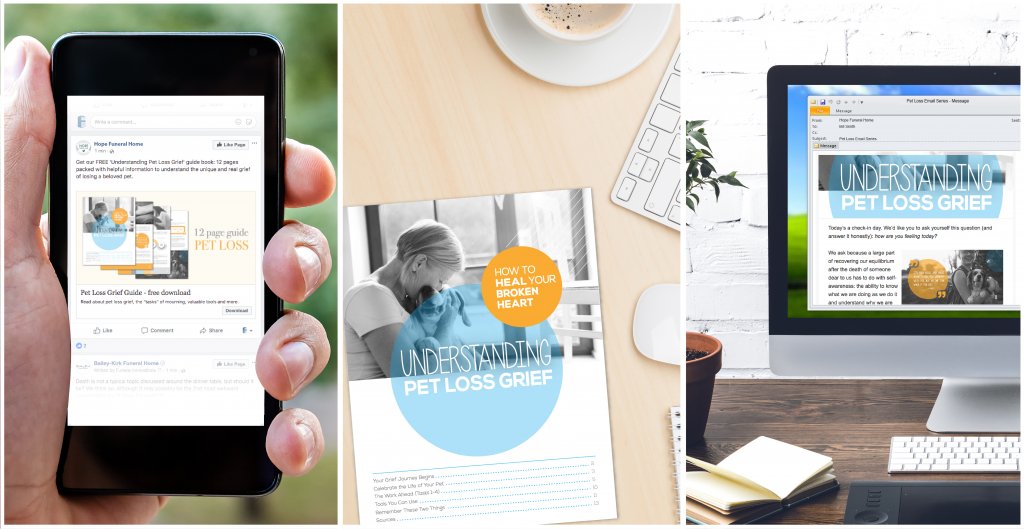 New Campaigns
If you are already a Growth Engine client, you are aware of the dozens and dozens of high-quality, in-depth campaign content we have produced for you. But have you seen what is new?
What To Do With Cremated Remains: This easy-to-digest, 4-page guide outlines numerous, unique options on what to do with cremated remains, including traditional methods, burial, scattering, out of the box options and more!
The 2nd Most Awkward Conversation: This catchy campaign is perfect to engage the younger demographics in your community. This printable or mobile-friendly PDF guides adult children through the challenging talk to have with aging parents on their end-of-life wishes.
Understanding Pet Loss Grief: With nearly 85 million families in this country having pets, this beautiful 12-page guide work well for those who offer pet funeral-related services or even those who don't! This campaign acknowledge pet loss grief and provide education and understanding on this unique type of grief.
A Week in the Life of a Funeral Director: March 11 is Funeral Director & Mortician Recognition Day. To celebrate this day, we have the perfect campaign that describes what life is like as a funeral director. Acknowledge this special day while also building brand awareness and a greater presence in your community!
Vital ICE Partner Campaign: Our most-recently announced partnership is with Vital ICE, the custom branded In-Case-of-Emergency app. We have two campaigns built specifically to spread the word of this amazing offering, customized with your unique access code!
Here is what is coming soon…
Our content team is also working hard on some new grief topics, including campaigns on "Veterans and Grief" and Infant/Child Loss Grief" – stay tuned!
Are you ready to reach new audiences with amazing, customized, content and campaigns? Let's Talk! Schedule your own demo today!