I had the privilege of being accepted to Facebook's F8 annual developers conference, which I attended this past week in San Jose, CA.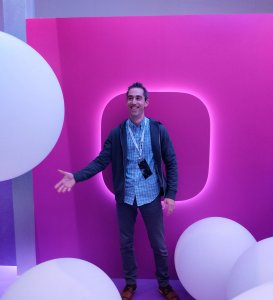 F8 is Facebook's big, annual conference where they make their most impactful product announcements, reveal the company's priorities, and support developers like those of us at Funeral Innovations, who build impactful products for their platform. This year I joined around 5,000 other developers to learn the future of Facebook.
Throughout two jam packed days of keynotes and sessions, including hearing from Mark Zuckerberg himself, I learned a ton about what Facebook sees as the future of social media, and how businesses can leverage their platform to reach their community today and far into the future. Here are some of the most relevant takeaways for funeral professionals who are looking to build relationships on Facebook in their communities.
The Future is Private
Those are the words Facebook's founder and CEO, Mark Zuckerberg stated to kick off his keynote address. Facebook believes that their existing mode of sharing with your "500 closest friends and businesses" amounts to participating in a digital town square. The future is more intimate, like chatting within a "digital living room" with those you know the best. As such, Facebook is putting more emphasis on participating in groups and private messaging.

The News Feed is Changing
Facebook is now rolling out the biggest change to their mobile and website applications in 5 years, which they call FB5. Gone is the traditional Facebook blue, in lieu of more whitespace and a more modern logo. Additionally, with the new app Facebook is focusing more on Groups, Messenger, and Events.

Messenger is Here to Stay
Facebook Messenger is Facebook's private chatting product for sending direct messages to one or more people. Facebook is currently adding end-to-end encryption to Messenger, meaning even Facebook won't be able to read the contents of your messages. They are doing this as a way of building more trust in their private communication products, and to encourage more people to rely on Facebook for more of their communication. This includes businesses too, and Facebook is even rolling out more business tools to help firms communicate with clients on Messenger, automate their responses, and even book appointments directly from a chat!
Facebook and Instagram Stories
"Stories" are blowing up on Facebook and Instagram, with over 500 million people viewing a story daily on Instagram and 500 million more people viewing stories daily on Facebook. And it continues to grow rapidly.
Stories are a type of Facebook or Instagram post that is less formal, more fun, full screen, and disappears after 24 hours. For many people, it has become their preferred way of sharing with over 1 billion stories being shared daily. For many businesses, it's becoming one of their best performing advertising channels with over 3 million advertisers now using stories and 50% of people who view stories ads end up going to the advertiser's website or physical store.

Facebook Ads
Facebook continues to adjust their ads product, and the tactics to get effective results continues to change as well. Ads have gotten much more effective but also more complex and difficult to navigate and use, requiring experience with split testing, video, lead forms, advanced creative, online-to-offline strategies in order to succeed.

The Future of Communication
Facebook demonstrated a handful of advanced technologies that show where communication is heading in the future. Augmented reality, which combines the digital world within the physical world, is growing rapidly in popularity and is used extensively within Instagram, Snapchat, and Facebook. Facebook also announced the launch of two new virtual reality headsets, which will further bring virtual reality to the mainstream. Lastly, Facebook is putting a lot of focus on artificial intelligence as a means of filtering out profane content or content that violates their terms and conditions from their platforms and as a way to improve your ads' effectiveness and make your messaging bots even smarter. While these technologies sound like something from the far future, they are already being adopted by mainstream users and are only going to grow.

How does all this affect your firm?
All of these changes point to Facebook de-emphasizing organic (non-paid) reach from businesses. Instead Facebook focusing on reaching people on a more personalized level. It becomes even more important for funeral homes to set aside ad budget to reach folks in their community, and have a plan to take that conversation with your community from Facebook to another communication channel like email for follow up.
Here are the 3 big ways for you to adapt and stay ahead of all this change in the social and digital space.
Build Deeper Relationships

– people online are no longer content with quick-hit messages, and are instead looking for more meaningful connections from people and businesses. It therefore becomes important for you to avoid chasing quick responses or leads, and instead build lasting relationships with your audience around topics they care about.

Meet your community where they are

– people in your community are continuing to spend more of their lives online, in Facebook, Instagram, Facebook Messenger, Groups, and Stories. In order to build the relationships you need to succeed, it's critical that you reach people where they actually spend their time: online and social media.

Expand your Facebook advertising – only 5% of your Facebook Page's audience actually sees your content organically. As Facebook moves towards emphasizing groups and Messenger, it becomes even more critical to reach your community through an effective Facebook ads strategy. This goes beyond simply boosting posts, and requires you to generate interest on a variety of topics, collect the contact information of those who are interested, and then follow up with them on the topic to build a relationship.