It's always good to check over your firm's Facebook page settings to make sure you're not missing something. Here are 5 easy things to check on your page, to ensure it works as the best marketing tool for you!
1. "Funeral and Cemeteries Service"
You can mark your Facebook page's category as a number of things. As a funeral home or cemetery, the best option is, you guessed it, "Funeral and Cemeteries Service." Now, to see if you already have your page set at that category, look at the right side towards the top, right below the cover photo. This is where you'll see the type of business page it is. If you have something other than "Funeral and Cemeteries Service" you can edit it.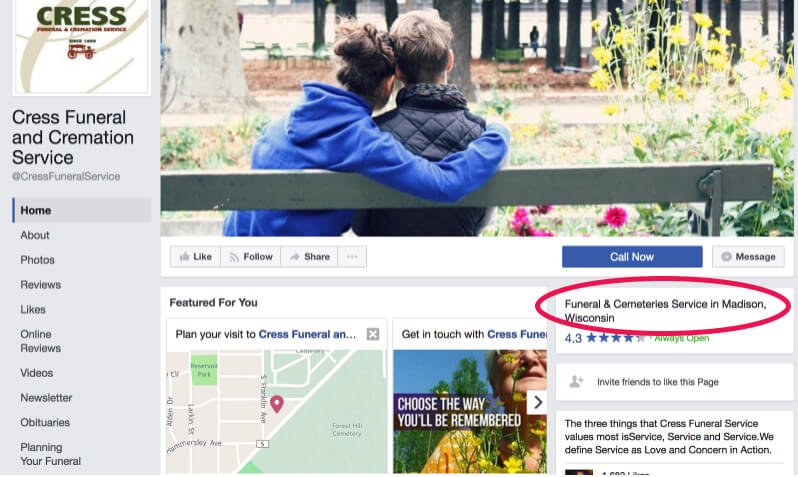 Click on the About section on the left navigation bar. Scroll down until you see General and below it Category. To the right of your category is "Edit" in blue. There you can change it. However, it does have regulations, and cannot be changed to whatever you wish.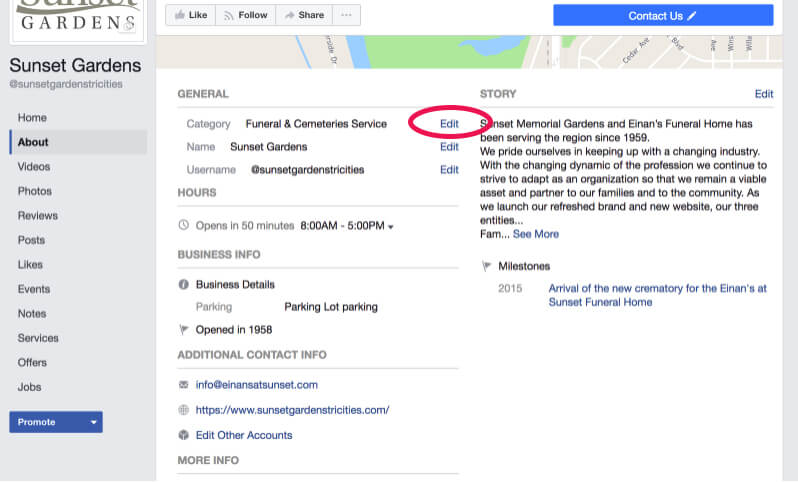 2. Finish About Section
When you first setup your Facebook page, how thorough were you? Did you fill out all the sections? Let's go and check your "About" section to see if there is any important information missing.
From your page, on the left side navigation, click "About" (directly below "Home") Then you'll see a page like the image below. The top right text in blue says "Edit Page Info." Here you can edit any text or add missing info.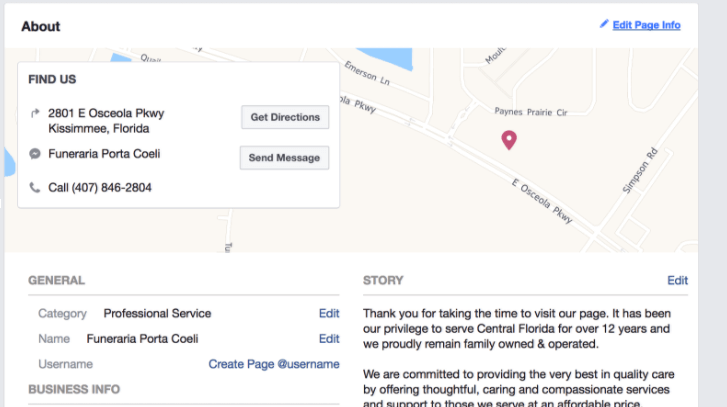 3. Action button
There's a great space Facebook designates for a call-to-action button. Do you have yours set up?
The default button Facebook uses is the "Send Message" button. This button serves a fine purpose, but you may want to be utilizing that space for a greater message. If you would like them to move over to your website from Facebook, then it's important to easily show how to do that.
See the before and after when I chose to add a "Learn More" button that links to their website. They didn't lose the "Message" button, but instead have two.
BEFORE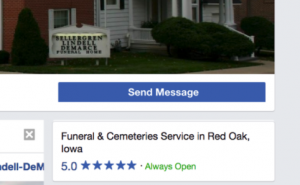 AFTER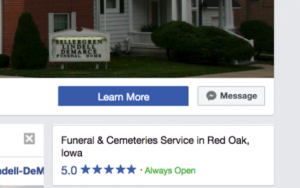 To update this yourself, look in the same section, to the right, below the cover photo and see all the button options. There are many options to choose from, including Call Now or Contact Us etc.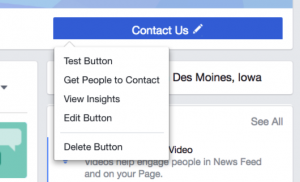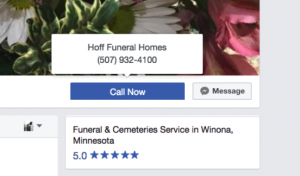 4. Claim an Unmanaged Page
If your firm is new to Facebook, you may have come across an unmanaged page with the same title as your firm. You can tell that it's not an official page, but just an automatic page that Facebook has created to link to those who have mentioned it or checked in at that location.
It's best to not keep this unmanaged page floating out there, where the public can post and link to it. It's better for that traffic to go to your own firm's Facebook page. (Read our full blog post on claiming an unclaimed Facebook page)
In the image below in the bottom right you'll see that this is marked as an Unofficial Page. You can also tell it's not managed by anyone since the posts in the feed are only from people in the community, but not from the firm itself.
In the bottom right of the image, it says "Is this your business?"  If you come across a page like this of your firm, then simply click the link and follow the directions to link up your firm's new, official page with the copy.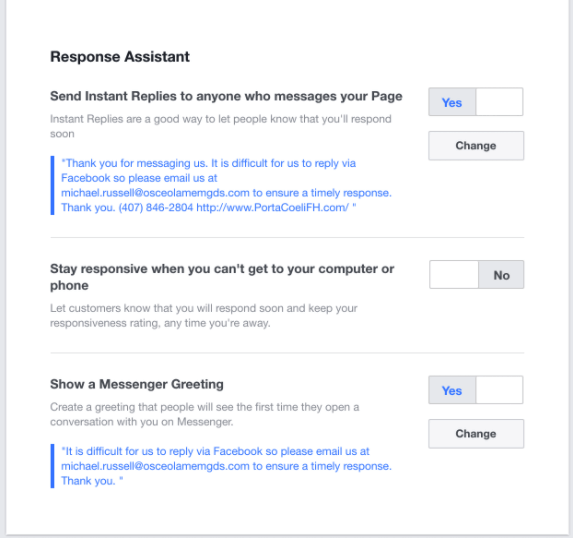 5. Response Assistant
Especially in the funeral profession, it is so important that families have the correct information in a timely manner. It may not be possible for you or your team to check for Facebook messages daily, or more frequently. However, you would always want your community to know your correct phone number to call in case of an immediate need. Facebook's Response Assistant, a free part of their Messages section, allows for you to reply quickly in case of emergency.
Through Settings, then clicking the left side tab titled "Messaging" you'll see features of the Response Assistant. Here you can choose what you would like your instant replies to say.
We suggest using text similar to the following example…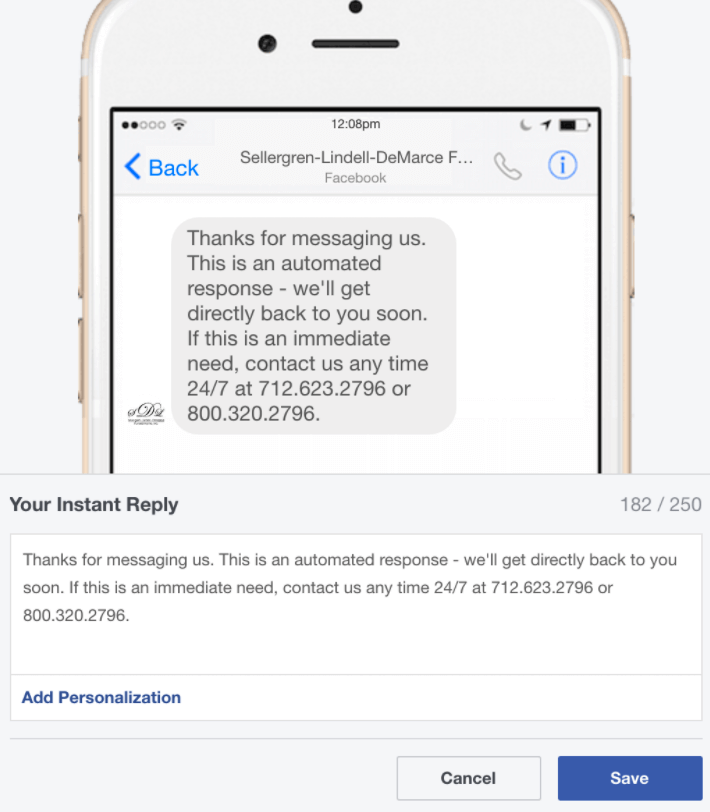 Any Questions
Did you learn anything new? How well is your Facebook page set up? If you ran into questions as you went through these 5 steps, let us know.