The COVID-19 pandemic is affecting everybody's lives today, and we're hearing from funeral homes from across the country that it's making it really difficult for them to serve the families in the ways they have become accustomed.
Particularly, it's difficult because a lot of people now are deferring the services of someone who has passed away until some later date, when things blow over a little bit. The challenge with that is that the family and friends then have no way to find out when that service is going to be held, and it's difficult for the funeral director to stay in touch with them.
Additionally, because of the restrictions on gatherings of people, many funeral homes are now holding services remotely using streaming software such as Facebook live. Again, the problem is keeping everyone up to date. How are the family and friends of the deceased gonna know when that Facebook live stream is starting and have the right link so they can actually participate in it?
Today we are releasing solutions to help funeral homes collaborate and communicate with the family and friends that they're serving. So we're releasing two updates. One is signups for SMS or text notifications to help keep family and friends up to date through text notifications. The other is a Facebook live solution.
So first of all, to stay up to date with people on the obituary using SMS or text notifications, there are two ways we are providing this.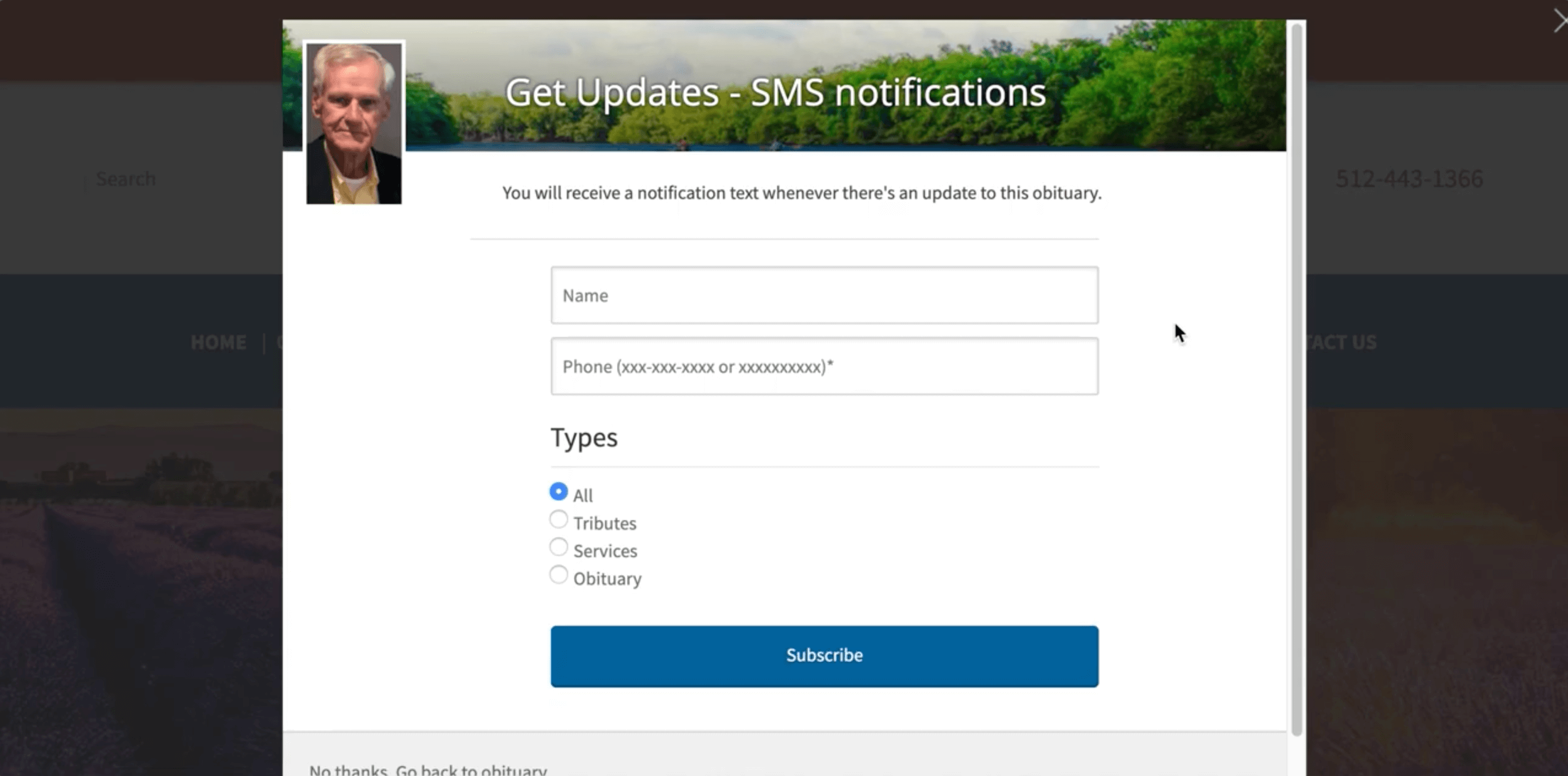 One is if you are a Funeral Innovations customer that uses our Funeral Innovations websites, you will now see a banner on every obituary that will allow visitors to the obituary to sign up to receive SMS text notifications. All they have to do is add their name, and their phone number and they'll be allowed to receive text notifications when the funeral home has updates.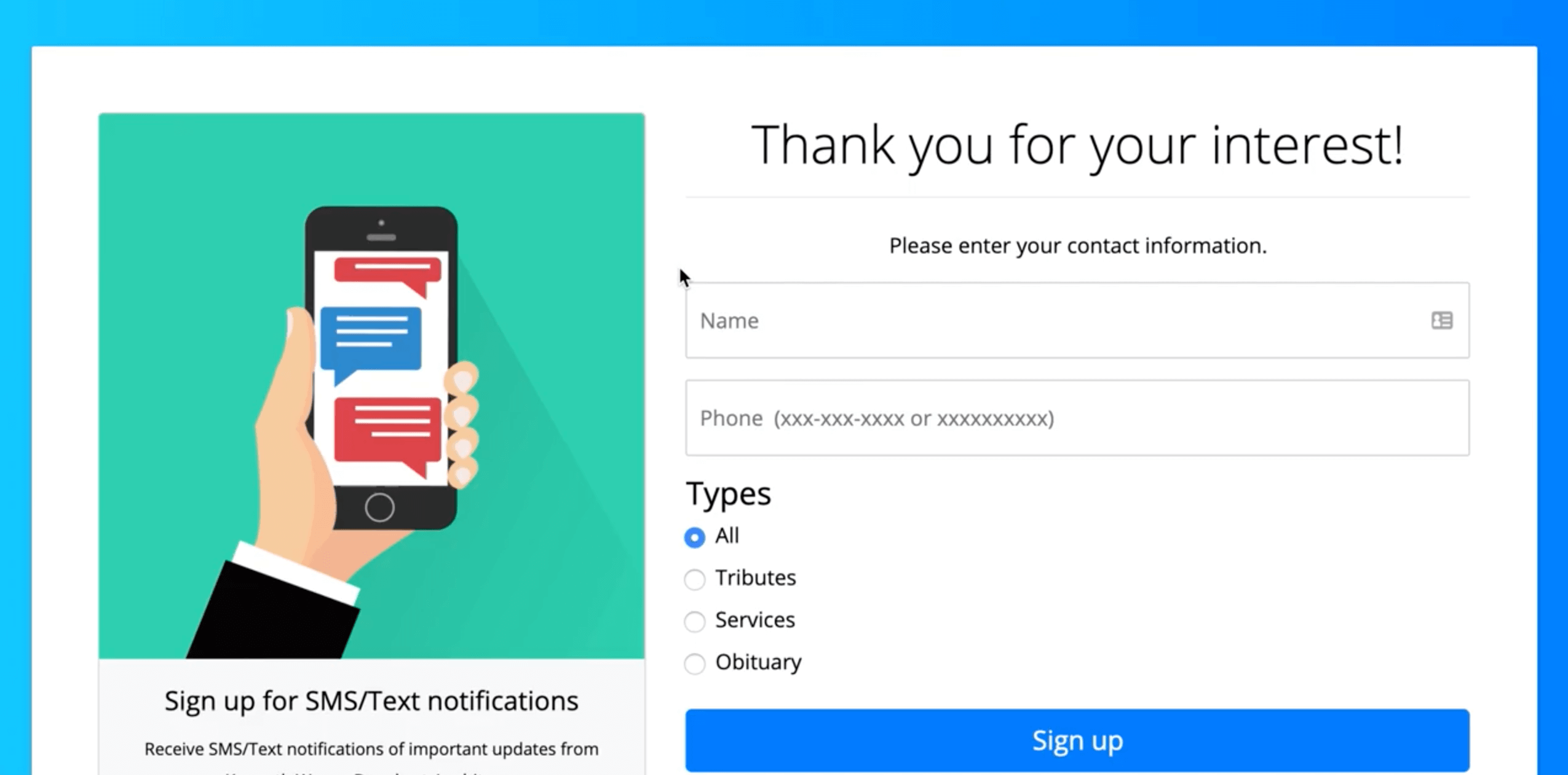 If you are not using Funeral Innovation websites, we still provide you a way to collect these contacts of people who want to stay up to date. So, for each case or obituary that you have, we provide you a link that you can add right to the obituary text that allows people to go to a landing page, and sign up to receive notifications and updates for that obituary through text messages.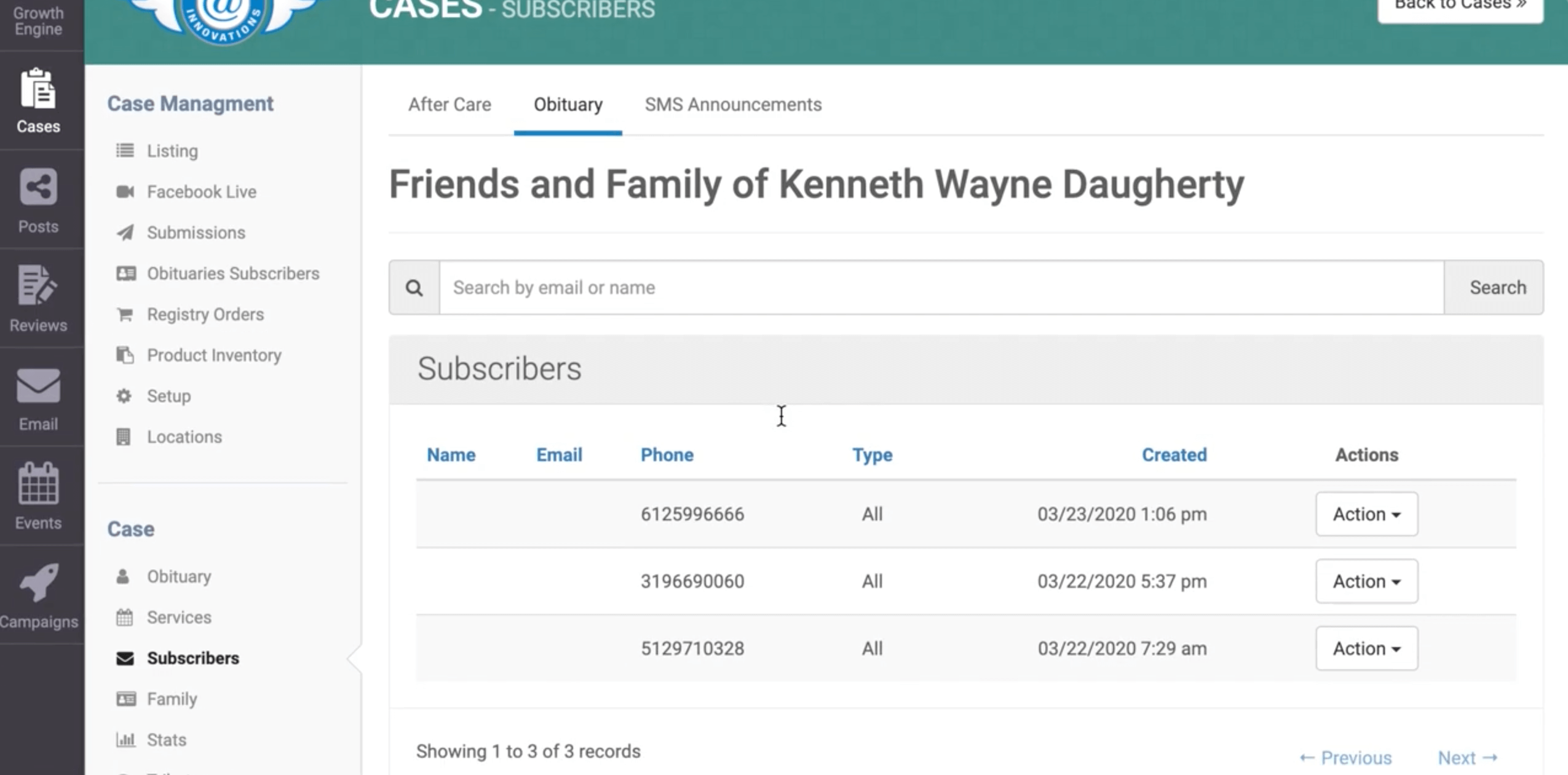 Whichever way you use. If you go to the back end case manager within Funeral Innovations, you can click on subscribers, and you can view all the people who have signed up to receive text messages and notifications for that obituary. Through the SMS announcements tab, you can then send notifications and messages to all the people by simply entering the message and clicking submit. It will then send a text message to all the people who have signed up to receive those notices.
Now, the other challenge is if you are using a live streaming software such as Facebook live to stream the services, how are you going to ensure all the people who want to participate and view that service are kept up to date about when it's happening and are provided links so they know how to participate?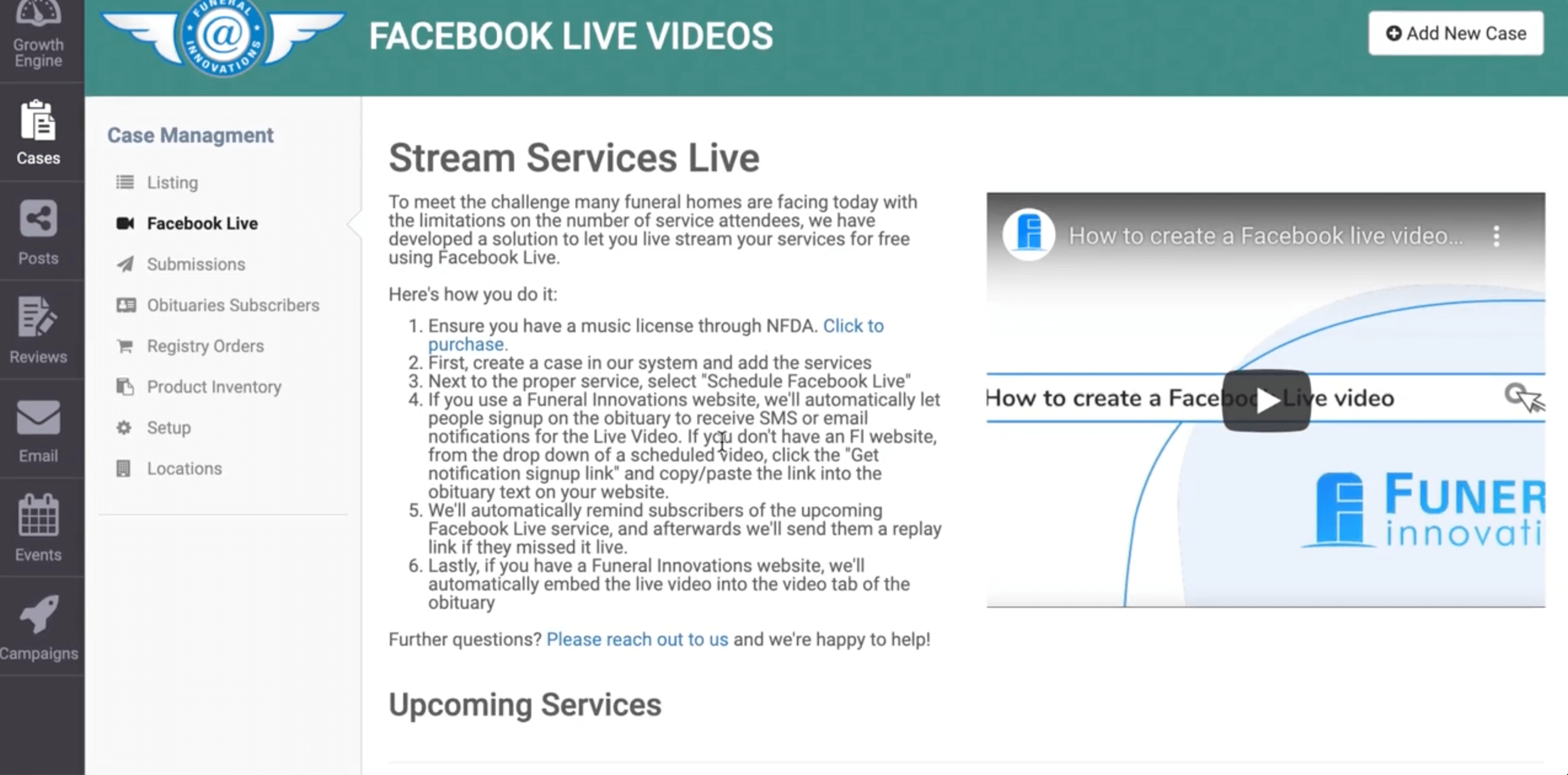 We're releasing our Facebook live solution that will help facilitate that process. All you have to do is click Facebook live in the Funeral Innovations backend, and you'll see a list of all your upcoming services.
Now, to schedule a Facebook live stream, all you have to do is click the schedule Facebook live button. What that will do is that's going to keep everyone who has subscribed for notifications up to date about that Facebook live stream.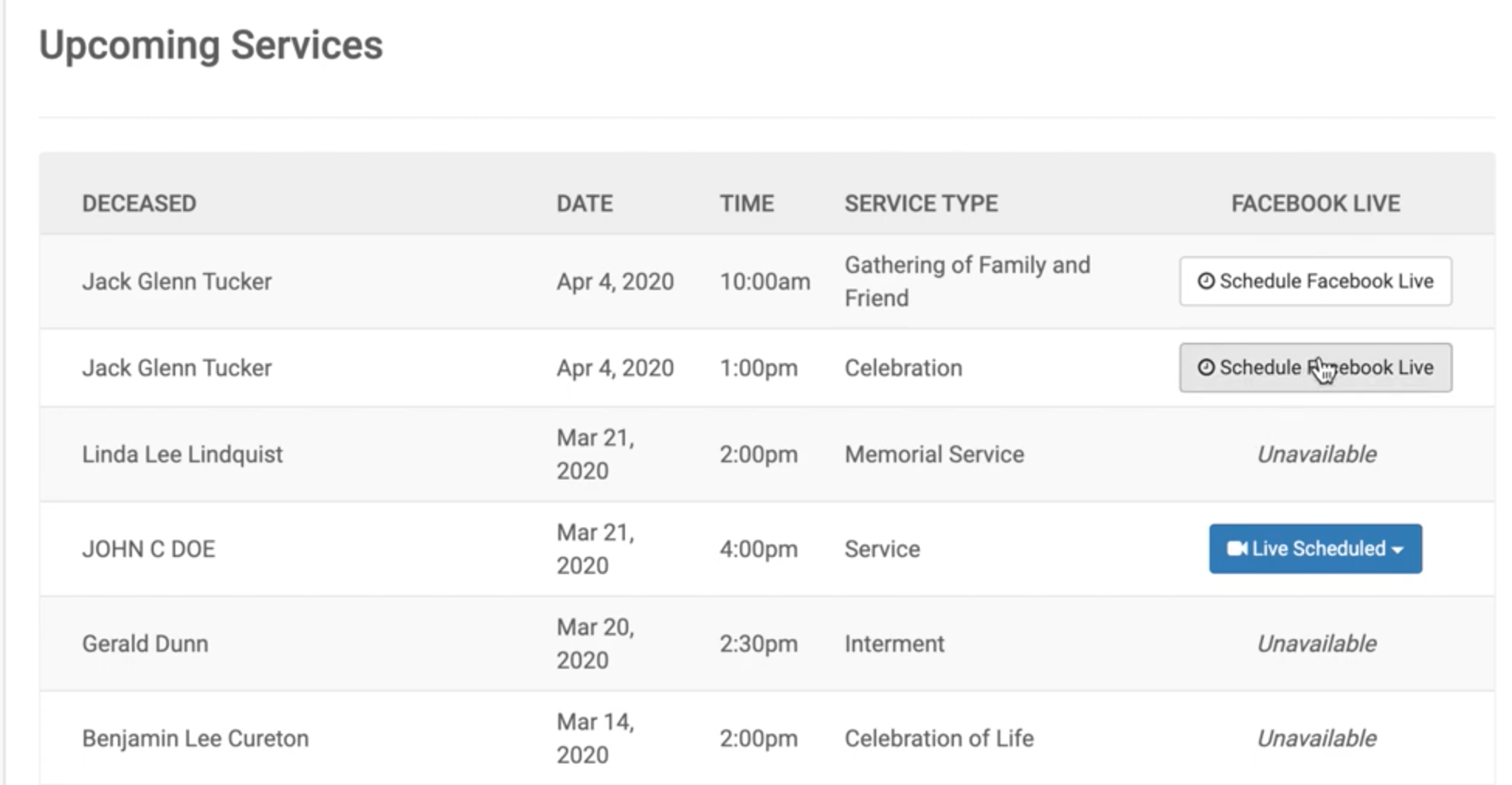 So, a day before it's scheduled to happen, an hour before the live stream starts, and when the live stream is beginning, our system will automatically send out a notification to all the people who have signed up to receive updates, it'll let them know about this live stream and it will give them a link back to your Facebook page so they can participate.
Once the stream is over, our system will automatically send a link to the replay so that they can come back if they weren't available to watch it live, they can still come back and visit it and watch the stream after the fact.
The best part about this is that it all happens automatically. All you have to do is click the button to schedule it, and all those notifications are handled automatically, and you can perform your live stream just as you always would using the Facebook app.
So through these SMS notification signups and the Facebook live notifications, we hope that we can help funeral homes better stay in touch with the families and friends that they are serving.