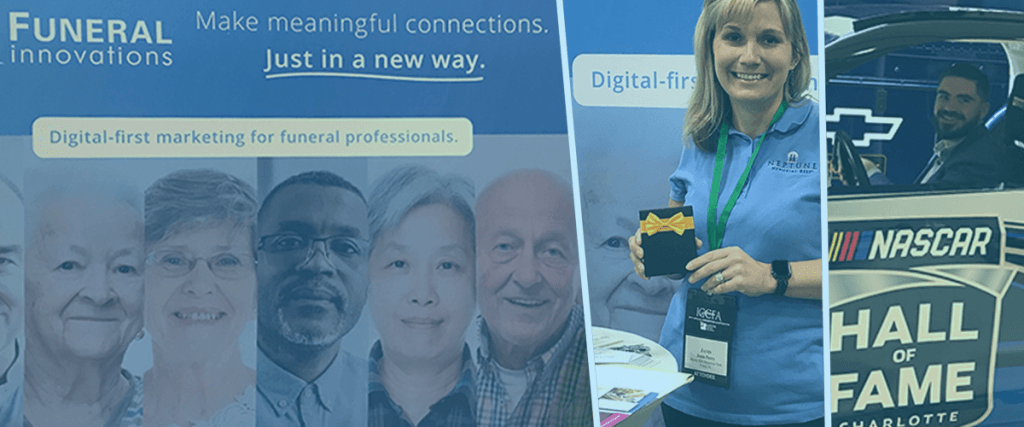 ICCFA 2019 insights and highlights
ICCFA 2019 proved a great success. Thanks to everyone who stopped by our booth. We enjoyed chatting with all the new faces and catching up with old friends and acquaintances. We had plenty of people try their luck opening our lockbox and enjoyed watching people win. We gave away gift cards, jewelry, and more. If you missed us this time, stay tuned. We'll be back with more giveaways and goodies at NFDA in Chicago this fall. If you didn't make it to the conference, read on to learn what concepts and trends bubbled to the surface and caught our attention at ICCFA.
ICCFA takeaways and insights
Outside investment money: Expect a flood of outside money to enter the industry as investors eye the aging Baby Boomer population. Like it or not, the money is coming with investors expressing interest in everything from insurance to technology to rooftops. Social media selection: Social media is here to stay. The question increasingly becomes how to pick the right partner to help with your digital marketing. HINT: Be sure they understand your firm and the industry. Online, direct cremation: Cremation will only increase, and as traditional funeral homes lose business to out-of-town direct cremation providers, more traditional firms are adding online, direct cremation to their suite of services. Marketing as a differentiator: As competition increases, marketing that makes you stand out increases in value. Telling your story, delivering your message, and educating your community on the value of services helps differentiate funeral homes and cemeteries. Industry consolidation: The consolidation of small firms into multi-rooftop businesses owned by one family or parent company continues. While not a new trend, a changing market seems to be accelerating this process. New avenues for lead generation: As old methods of finding and retaining clients fade, funeral homes and cemeteries increasingly turn to new sources for lead generation.
ICCFA happenings
There's always a lot to do at a conference. The ICCFA planned an excellent event and Charlotte had plenty to offer. Here are some of our favorite highlights: NASCAR Hall of Fame: We attended the marquee kickoff event held at the NASCAR Hall of Fame. Whether you're a fan or not, the venue is worth a visit thanks to multiple interactive exhibits. Drive the NASCAR simulator, walk among classic cars, or try your hand at a pit crew challenge. Our sales team did! Check it out below.
Presentations: Our team enjoyed numerous talks and presentations by industry experts organized by the ICCFA. We learned a lot and enjoyed the insights they provided. Uptown Charlotte: Great restaurants and a lovely Uptown area greeted all attendees.