We had a lot of fun at NFDA. Did you try our virtual reality demo?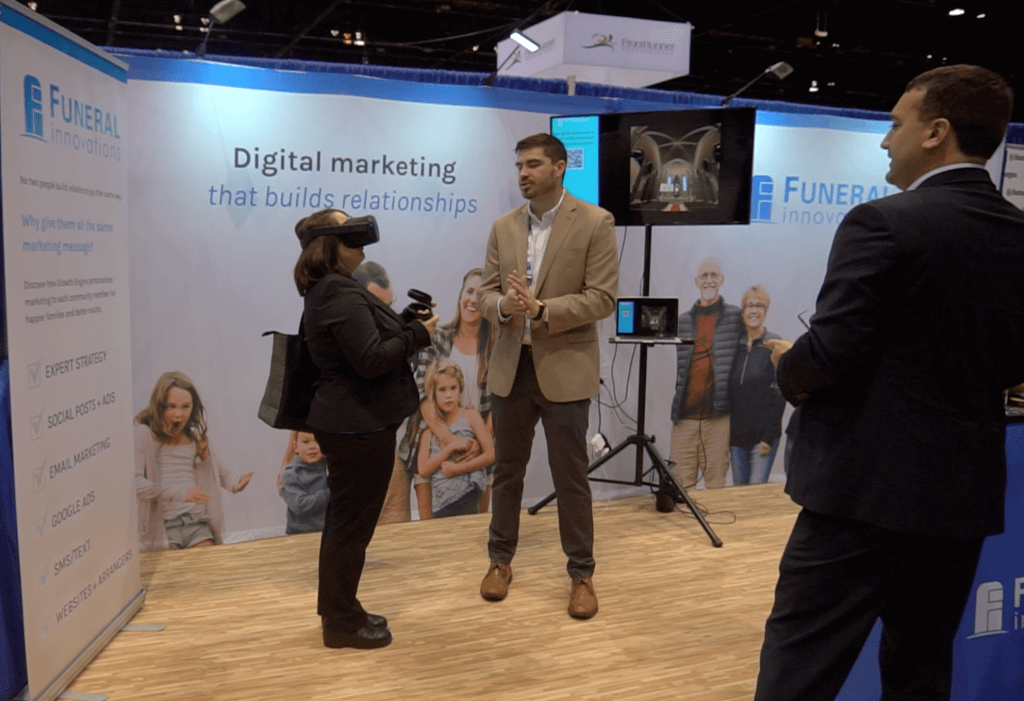 Here are two of our favorite things:
Building relationships with people

Innovating new technology and marketing practices
In fact, our mission is to bring innovative technology to funeral homes and cemeteries in order to build better relationships among our firms and their families.
So when we saw the astronomical rise in VR, or Virtual Reality, across the marketing landscape in recent years, we decided to envision what this would look like when brought to the death care industry.
And thus our VR memorial was born.
What is VR and what did we do?
VR, or virtual reality, uses your phone or a special headset — we used the Occulus Quest — to put you in an immersive experience. This can be a real-world experience, an animated world where you are represented with an animated avatar, or pretty much anything else a developer can think up.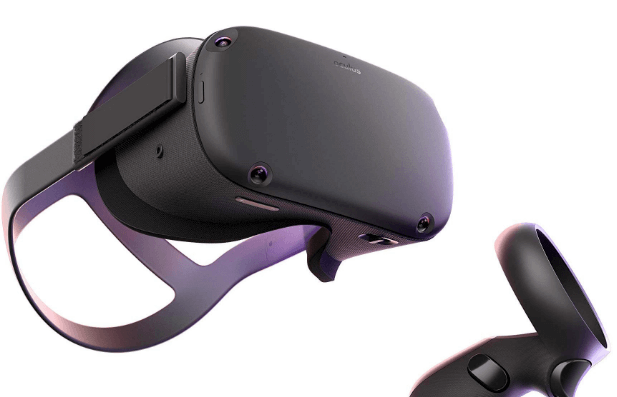 This year NFDA, we imagined what a VR memorial could look like. People who tried it started in a church with a memorial video playing and ended in the woods with a campfire tribute to someone who loves the outdoors. It even included fireworks.
 See the video below for a taste of what this was like. However, unlike a video, in a VR experience you can interact with the setting by walking around, picking things up and looking in any direction you choose.
How is VR used in other industries?
More than 78% of people in the U.S. are now acquainted with VR either through personal use, through an event, or through a business. Maybe they stumbled on VR while at the mall, at a friend's house, or at an amusement park.
Heck, you can even rent a VR booth for your next birthday party. 
VR is also being used in marketing and sales. Imagine previewing a house virtually before you buy it when house shopping remotely. Or touring your vacation rental before you sign the rental agreement. Here are a few other examples happening now:
Lowes uses VR so people can see what their home improvement project will look like before they leave the store.

NASCAR treats fans to an in-home VR experience in partnership with Xfinity that gives an up-close-and-personal view of a NASCAR race.

Parents buy custom AR or VR experiences for their children's birthday parties.

And several companies offer

VR for nursing homes

because of its ability to immerse the participant and promote mental stimulation benefits.
Why is this important to the funeral and cemetery industry?
If VR is coming to kids' birthday parties and nursing homes, it can be used to enhance a celebration of life or even a traditional funeral. It's just a matter of time. Plus, VR makes possible things that can't happen in the real world due to cost or logistics. Imagine a VR memorial help on the 50 yard line of a fan's favorite team. Or a celebration of life hosted at the Eiffel Tower. And with VR even far-away friends and family can participate in the experience.
We love to look to the future. And while VR memorials may not happen tomorrow, there are many digital marketing trends that other industries use and our industry doesn't. We are always looking outside the industry to bring the best options inside.