Families choose you to serve their loved one because of your history, your caring staff, your level of service, and what truly sets you apart.  Telling that story isn't always easy, or affordable on Facebook.  That was until today!
We've released a powerful new content feed to our Copilot called Favorites.  This simple, yet effective addition allows you to personalize your Copilot to continue to tell your story without adding overhead or breaking the bank.
It's super simple. If you see a great preplanning post within your library, simply add it to your Favorites. If you love an educational post on the value of funeral service, just add it to your Favorites.  If you want to spread a more personal message about you, the Favorites feed works for that too. Just add the custom images to your Copilot and include them to the Favorites feed. We can help create images for you and add them to your Copilot for a hassle free experience. Then you are set!
The magic happens when our Copilot will periodically go into your Favorites feed and grab personal posts about your brand, telling your story, and add them to the schedule of posts. Then, every couple months, the Copilot will come back and grab the same post and reschedule it to ensure you get the most out of every post. And it is all done automagically!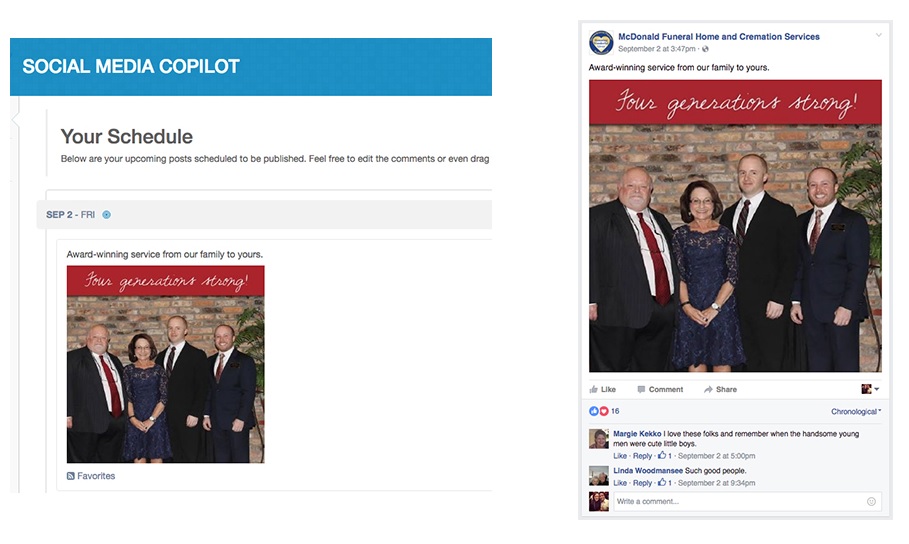 If you are paying expensive advertising firms to get mediocre results, you should give the Copilot a try.
Contact us to learn more about how the Copilot and our new Favorites feed can help you get the most out of your Facebook page!