We frequently get asked about custom, local posts for your Facebook page. Are they necessary? What makes a post great? Where can you make posts with images and text? The list goes on and on…
We often use the phrase "Schedule a year's worth of Facebook posts in just 5 minutes!" Although we can schedule a year of posts in just 5 minutes, and we do do this with our Social Media Copilot software, there is more to be said.
We believe that posting custom, local posts to your Facebook page, as a compliment to our Social Media Copilot posts, works effectively in engaging a greater audience in your community.
Here are 7 great custom posts examples:
1. Lunch and Learn Events
In the past few years, Facebook has proven to be successful in creating awareness for lunch and learn events, and other similar preplanning events.
There are two ways we help spread the word on these popular events; either by making an event on your Facebook page and inviting your friends, or by simply posting as your firm, on your firm's Facebook wall. Either of these options can provide great results, and if boosted with an affordable budget, can have the potential to reach even more in your community.
2. Events
One example of an event post is one during the holidays. Many firms choose to stand out during specific holidays with wonderful events for their community. We have seen mass at a local Catholic Church devoted to loved ones around Christmas, Open House breakfast on Memorial Day weekend, Valentine's Day Dinner, and so much more. The example to the right shows a great partnership the funeral home has, informing their community that they are a drop off location for Toys for Tots.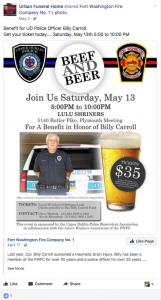 Other non-holiday events we commonly see are those that are fundraisers for a local association. In this example, the firm is hosting a benefit for a Police Officer who was severely injured. It's best to be direct with these posts, and write out a call to action. This one states, "get your ticket today" with a link to actually purchase a ticket.
Another example of a post that is nice offering for your community and shows your genuine nature, especially as a funeral home, is a post reacting to a tragic event.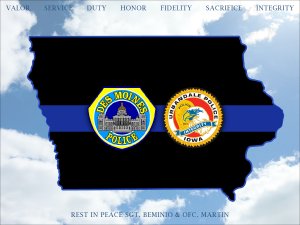 This post was shared just a day after two Iowa police officers tragically lost their lives while on duty. Your staff, as members of your community, as well as grief support experts at your firm, understand the importance of bringing a community together in difficult times. Facebook has become a place where people turn to when grieving, so you want to be there as well.
3. Firm's Anniversary
We have had a few of our firms now post custom posts about a big anniversary. This example shows the countdown to their 150th year Anniversary, where they are posting a few times a month about historic events in their 150 year history.
Whenever you choose to share about your firm, it's best to mix it up with posts that are also not about your firm; something that the viewer can take something out of, learn from. That's why it's so complimentary to have our Social Media Copilot posts which educate and engage, along side with custom posts that help to create more brand awareness.
4. Staff Posts & Community Involvement
Whenever your staff is out and involved in a community event or activity, share what they are up to. Connecting with another community organization, in this case, a local Hospice, is the perfect opportunity to showcase a partnership.
We have seen many posts that are simply of new staff photos. These do so well in the community. You can choose to post just one group staff photo, or post individual photos one at a time spread across a few weeks or months, creating a mini series reintroducing your staff. This not only creates engagement in the community but also is a good way to highlight and thank staff for their service.
5. Remodeling and/or Additions to your Building
Whenever you are doing something to benefit those in your community, you want to share it. Whether this be partnering with another organization or adding onto your building or grounds.
Sharing the process, not just the final project is what makes a deeper connection between your firm and the individuals in your community.
If something seems like a sneak peak or the inside scoop, the more likely you'll receive engagement and positive feedback. Remember, your firm has it's own persona in the community, and sharing updates and changes is not only easy but fun and light, and adds to your image.
6. Years of Experience
Just like it's important to show how you're growing and share some sneak peak photos and insight, it's important to show how long you've been around. With experience comes trust. It's okay to toot your horn a little. Who else will?
This example shows beautiful photos from the cemetery as well as text stating they are and have been family owned and operated for years…"Family owned, operated, and focused, we have proudly served the community since 1957. http://www.fmpark.com/contact-us."
7. Unique Services and Special Topics
What makes your firm unique? Do you have any services that your competition doesn't? How about any offerings that tend to surprise your families? Take this example: live viewing of a service. This may be something that individuals don't think of when they imagine a funeral service, but once they hear of it, they realize what a great option it is for family and friends who can't travel.
If you have this service or other unique ones like it, don't miss the opportunity to share on Facebook. You may be surprised with the great comments you'll receive from sharing special topics like this.
How to create your own custom posts?
There are many ways to create your own custom posts for Facebook. Most options are very time consuming, but here are two good options:
1. The first option is to use Canva. We are not affiliated with and do not endorse Canva, however, we do know it is simple enough to use and affordable. You can choose photos and add text, with font and color options. This option can help you create professional looking results but will still take up some of your precious time. This options beats trying to learn a challenging and more expensive design program, as well as purchasing expensive stock photo packages.
2. The second option is to use our in-house FI graphic designers. You send a quick email with what you are looking for, and one of our designers will design an eye-catching post and caption for you. You can approve the design(s) before we schedule them for you, no hassle. If you would like us to boost the post with an ad budget, we can navigate that for you as well. This option saves you the most time, at an affordable hourly rate. Plus we know what works and doesn't work on Facebook, offering you valuable insight into a complex task.
Hope these examples gave you some inspiration to share what you are up to in your community. Contact us to create some custom posts for you!
Do you post any unique custom posts that we didn't mention? Share with us in the comments section below!