We have partnered with Selected Independent Funeral Homes to create a unique Facebook post feed specifically for our clients who are Selected members.
Selected Independent Funeral Homes has over a century of tradition in the funeral industry. They empower firms to achieve their goals by creating business tools, developing education, and connecting members to each other.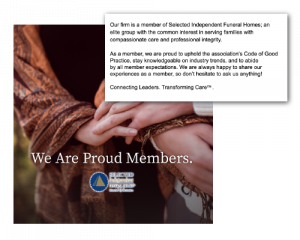 Our Selected Posts feed gives your community a sense of the importance of your Selected membership and the immense benefits it provides the families you serve.
This tutorial from our Help Desk outlines how to log in and add the Selected Posts feed to your list of Facebook content.