Every family is different. Sympathy gifts should not be one size fits all.
During major life events, like weddings or new baby, gift registries have become indispensable. It's clear why they are so popular: the recipient gets exactly what they want, and the gift givers know their gifts are meaningful and desired.
Why should sympathy gift giving be any different?
The Healing Registry lets you provide your families a personalized and meaningful experience, while helping them receive sympathy gifts that matter.
Our new Healing Registry lets the families you serve select sympathy gifts they actually want, and helps family and friends know how best to support them during a time of grief. Families can personalize their Healing Registry by selecting from flowers, plants, gift baskets, memory keepsakes and more. The chosen products are then displayed in the obituary shopping cart to help visitors securely purchase gifts that matter.
The Healing Registry is turn-key and effortless; orders are taken and fulfilled automatically, and your funeral home earns up to 15% commission on all the sales.
Local Florists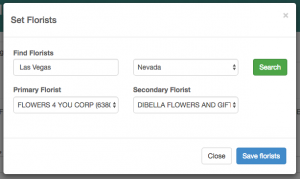 The Healing Registry uses local florists, that you select, to fulfill the flower orders. Your community will appreciate free same day delivery provided by the local florists you specify. This makes it easy for flower and plant purchases to be delivered directly to the service location. Best of all, the orders are processed, fulfilled and delivered automatically, meaning you don't need to do any work yet you still earn commissions on every order.
Personalized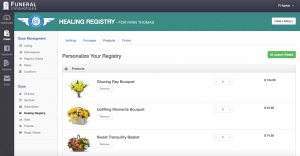 The magic of the Healing Registry is that each family can customize what products are shown on the obituary. That ensures they receive sympathy gifts that matter, and results in more orders, since family and friends know that their gifts are appreciated.
During your meeting with the family, you can help them browse and select the products they'd like to include. You can even send them a custom login to allow them to personalize their product selection at any time, from the comfort of their home.
Get the Healing Registry Now
The Healing Registry is part of our new Social Sites website platform. To start providing your families an unmatched, personalized experience simply reply to this email to setup a demo. It's fast, easy and affordable to get started.
Contact us today to learn more or get started now.