We've just released new, original newsletter stories for the Holidays.
Email newsletters are proven to be among the most effective forms of digital marketing. So how come more funeral homes and cemeteries don't send email newsletters?
Because it's hard work!
Every month you've got to design a newsletter, write an article, fill in some additional link and Facebook posts, proof it all, etc. You're probably too busy helping families to do all that, right?
Heck, it's a multi-person job just to stay on top of our own newsletters at Funeral Innovations. That's why we created the Email Copilot for Newsletters.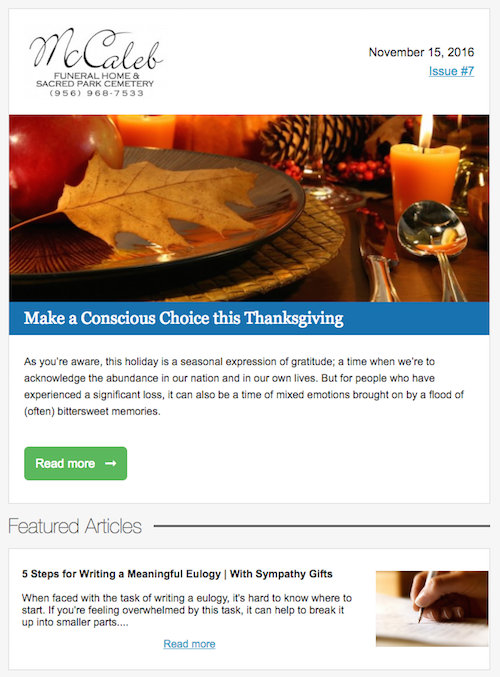 With the Email Copilot for Newsletters, funeral homes and cemeteries can create and send a beautiful email newsletter in 27 seconds.
Really!
We've got over 36 original articles in our Newsletter content library. Each article is professionally written exclusively for funeral home and cemetery audiences. Just find one you like, and with a single click your newsletter is automatically designed and ready to send!
We just loaded our new Thanksgiving story, which helps those who have lost a love one grieve during a time that likely feels bittersweet and lonely.
If you're not sending newsletters to your community already, especially during the holidays, you are missing out! There's still time, so contact us now to get started ASAP!
We can get you set up in no time. Then all it takes is 27 seconds per month…