Did you notice? Our new website is live!
We are excited to announce that our Funeral Innovations website has a completely new look!
Our new site welcomes visitors with a clean, creative and eye-catching design, with easy-to-digest content that provides our most current online marketing solutions. Through conversations with you, our partners, we've realized it was time for a new look and simplified navigation.
As we do with our clients, we took careful consideration as to how our content was laid out visually and in what order. We sat down and developed ideas about what we wanted and most importantly why; what does the viewer get from each section. We strove for a unique, welcoming and engaging site.
We are so excited to share the new site with you!
When you visit, funeralinnovations.com you'll find the same great service and company we've always been, now with a site that visually matches our excellence and innovation.
There are so many great features of our new site, but here are a few you won't want to miss!
Watercolor art  You'll see five beautifully painted, custom watercolor pieces throughout our new site; one on The Web Engine page and the other 4 on the homepage. We think these pieces give us a unique and memorable look, do you agree?
Interactive Demo  One objective of our site redesign was to be engaging with our viewers. On The Web Engine page, you can experience the interactive demo, tailored for your goals. Take a look!
Our Blog  Find the latest industry trends, new technology, success stories, and step-by-step ideas to implement for your funeral home.
Why Us  We wanted to make it clear that we are the best option for online marketing. You'll see in a salmon-pink background on the Social Media Copilot page a fact about our company. It's important not to forget to share documentation supporting your reputation.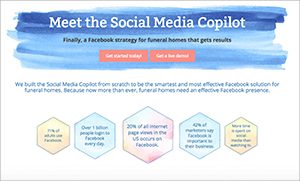 Even though the site is now live, we will continue to find ways to improve the visitor experience. You know as well as we do that you're never done building and improving your company.
We hope you find our new website easy to navigate and understand what we offer. We would love to hear what you think! Share your thoughts in the comments section below.