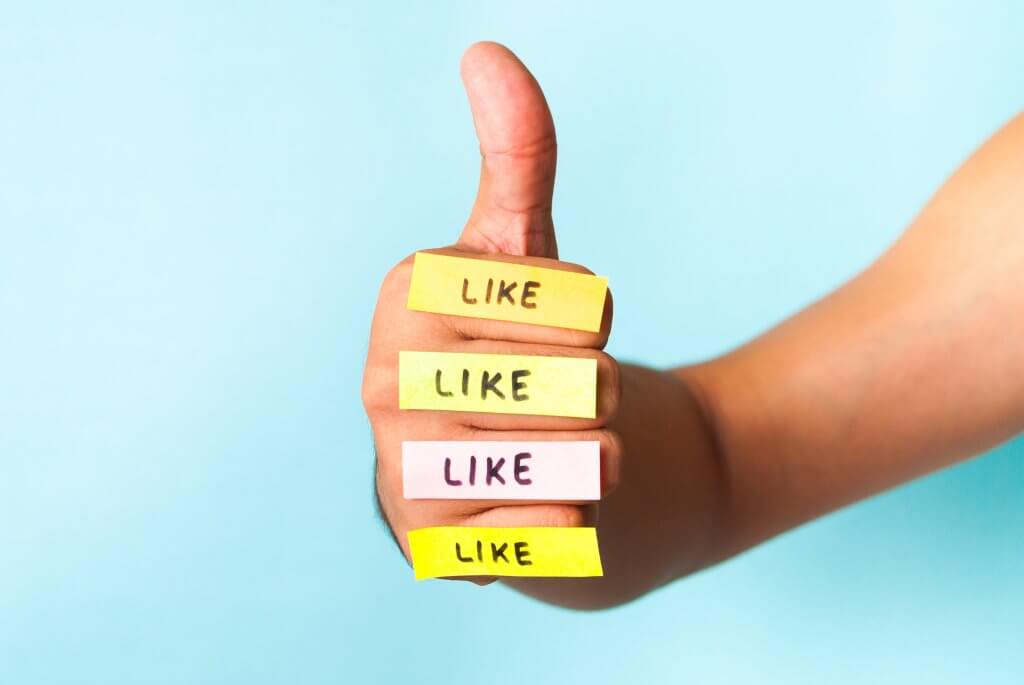 Are you new to Facebook? Maybe you have joined our Social Media Copilot through the Educational Initiative and are getting great posts each week, but is anyone seeing them? We have compiled 7 simple steps to follow to start growing your fan base on Facebook.
Why do you need fans? When your business has a Facebook page, you need to have Facebook fans so that someone can see your posts organically, when not using any ad budget to promote them. Whenever you post something, Facebook will show that post to a number of your fans, through their news feed. It's best to have fans that are targeted to your community.
Not new to Facebook but looking for more fans? Check out these steps anyway, you may learn something new!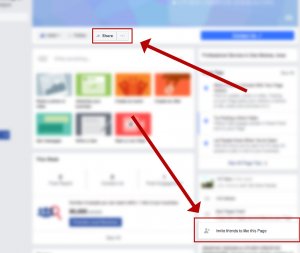 1) Invite Your Friends
Sounds obvious, doesn't it? But this is where you must start! There are two ways of inviting your friends directly on Facebook:
The "Invite Friends" link on the right side of your Facebook Page lets Page admins select friends to invite all at once.

The "Share" link on the top, middle of your Facebook Page lets anyone share the page to their personal profile, with an optional message. This is very effective, since sharing it to your profile makes it more noticeable to your friends.
2) Ask for Fans
There are numerous ways, outside of Facebook itself, to ask you friends, neighbors, and community to like your page on Facebook. Maybe post a physical sign inside your facilities. Often overlooked, don't forget to tell all your staff of your new page as well.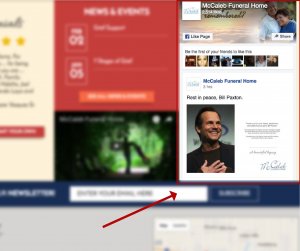 3) Promote Facebook on Your Website
Add the Facebook "like" button or Page Plugin to your website. It's more of a personal preference which you use.
The "like" button allows visitors to become a fan with a single click, without leaving your site. The Page Plugin allows visitors to scroll through your most recent posts, gaining insight on what you typically post, plus then they can choose to like and/or share the page.

4) Add Your Facebook Page to Your Email Signature
You can set this up in just a couple minutes, and it'll continue to pay dividends by promoting your Facebook Page to everyone you email throughout the day!
Go into your email settings and look for your Signature section. In the example to the right, the facebook page is below their website and above their phone numbers.

If you have a blog, having a short post specifically announcing that you are now on Facebook is a no-brainer. List some of the topics you'll bring up in your Facebook posts and encourage your blog viewers to like your page and share with who they may think could benefit.
5) Add Facebook to Your Business Cards
Each time you hand out a card to a colleague or community member, they'll have your Facebook address in the palm of their hand!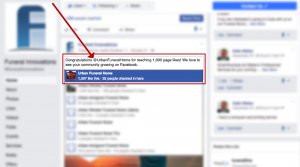 6) Engage with Other Related Pages
Another way to show that you're now a part of the Facebook community in your own community, is reaching out to other local pages. Perhaps it's the local hospice or grief support agency. Become a fan of their page as well as keep up with them, and engage on their posts. If they have a great post, like or even share it on your own page.
One tip; make sure you're engaging with their page as your firm's page, not as your personal profile. If you partner with another local organization for an event or something, make sure you tag them (using the @ symbol) so they'll know your comment includes them.
7) Grow with Facebook Page Like Ads
Regardless of your budget size, you can be successful in getting new likes through Facebook Ads. It's the most targeted online marketing you can buy right now. Choose customizations to your audience such as location, age, gender and even interest targeting. Facebook guides you through the process, however, if you get stuck or have questions, simply contact us.