Remembrance Codes
Unique Memorialization that Lasts Forever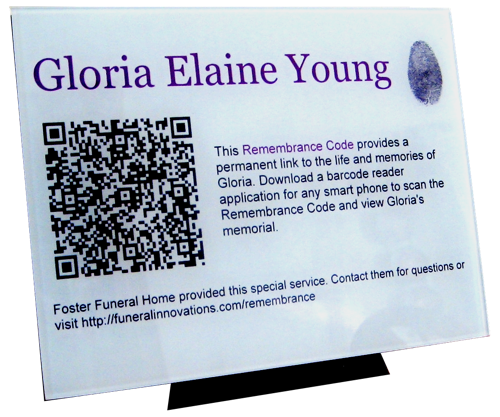 What is a Remembrance Code?
Remembrance Codes are elegant keepsakes that use a patent-pending technology to link it with the deceased individual's online memorial via a mobile device – forever.
On the surface, the Remembrance Code provides a family utmost personalization through a unique and beautiful glass keepsake that displays a fingerprint, signature, and even incorporates the deceased individual's favorite color. The magic happens courtesy of a 2-D bar-code displayed on each glass Remembrance Code; when scanned with any smart phone, it automatically opens the associated online memorial within the funeral home's website. Behind the scenes, an algorithm is used to ensure the online memorial is displayed forever, even if the associated funeral home is no longer in business.

Remembrance Codes are available as a keepsake for the family as well as an option to be attached to the foundation of a monument or bronze memorial at a cemetery.
Try it now!
If you don't already have one, search for a 'barcode reader' application on your smartphone. Once installed, use it to scan the Remembrance Code below, to be brought straight to Gloria Elaine Young's permanent online memorial.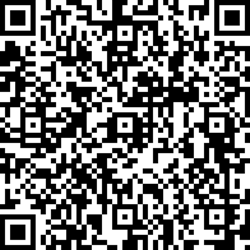 ---
Benefits for Funeral Homes
A permanent link from a physical memorial to your funeral home website

A new revenue stream for your funeral homes or cemeteries

A unique and branded keepsake that your families will cherish and talk about

A way to drive traffic to your online memorials for years to come
---
Benefits for Families
A permanent link to your loved one's online memorial

A unique keepsake that your entire family will talk about and cherish

A sturdy and lasting build that can be passed on for generations

Easy access to your loved one's online memorial – no need to remember a URL or perform a search

Lasts forever – even if the funeral home is no longer around, your loved one's online memorial will be


---
Get them now!
We're looking for progressive funeral homes to be our pilot partners for Remembrance Codes. If you want to be among the first to offer this unique service and product to your families, Contact us now.