Three examples of personalized nurturing success
Roughly 95% of consumers read reviews before making a purchase and 54% visit a local business' website after reading a positive review. Needless to say, online reviews are an essential part of the buyer's decision-making process. Not only do they strengthen your credibility in the community, but ultimately, reviews influence families to come to you for their death care needs.
Our clients, Scott McAulay Family Funeral Services, South Carolina Cremation Society, and Spillsbury Mortuary are signed up for our live monitoring or text messaging aftercare, some of the options included in our packages and Add-Ons. These package options involve our team monitoring and replying to comments on Facebook or in text messages on behalf of our clients among other services. See some examples below of just how impactful this option can be.
First: Scott McAulay Family Funeral Services receives a positive comment on their post: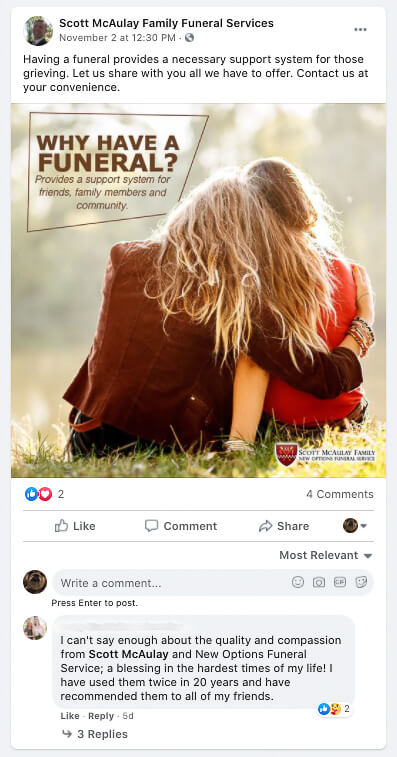 Next: We use the comment as an opportunity to encourage this client to leave a review: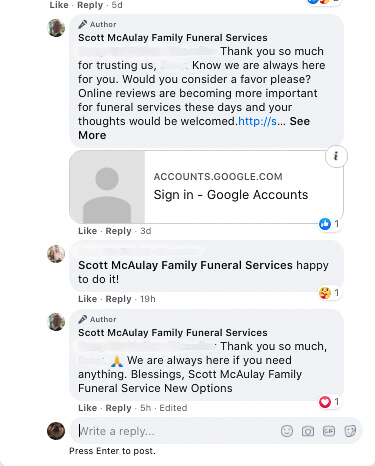 Result: Our team noticed positive comments, encouraged the person to write a review, and they did.
When it's the right time or the right person, we encourage them to leave a Google review. The quality and quantity of your firm's Google reviews are some of the most important factors for local SEO rankings. Business listings with customer reviews present greater credibility than those without. Meaning, if your firm has more high-quality reviews than others, your firm will be the first one they click.
Along with Facebook comment monitoring, we also offer SMS/text messaging aftercare. Similar to comment monitoring, a live person from our team monitors and responds to text messages from families on behalf of firms. This option has been getting a lot of positive feedback this past year, especially with the pandemic. See some examples of how proper nurturing and aftercare turned into positive Google reviews.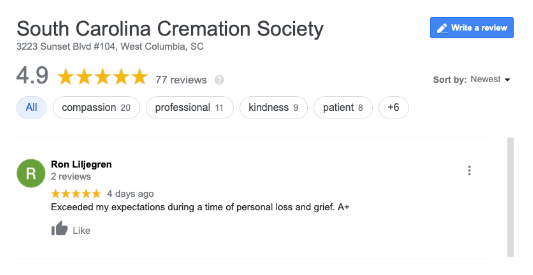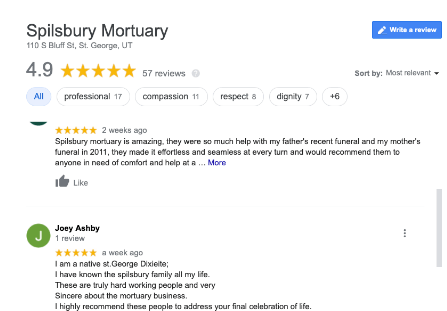 CONCLUSION
A personalized experience is what grieving families need. With guidance and thoughtful nurturing, families feel taken care of throughout their entire journey; this builds trust, loyalty, and longer-lasting relationships with the community. Capture your qualified leads and get results like these with our Growth Engine marketing hub. Contact us at info@funeralinnovations.com to learn how to get started.