If you have a Facebook Page for your funeral home or cemetery (and if you don't, contact us asap!), you probably have watched as your fan count slowly rises (or if you're using our Social Media Copilot, your fan count has quickly risen!). You've been adding content and you're delighting in everyone who likes, shares or comments on it. You think you've got a good handle on things, right?
Well, maybe not! Do you know if you're reaching the right people?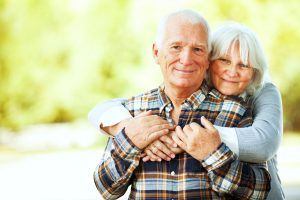 The important thing to remember is not everyone on Facebook is your target market. If you're a funeral home or cemetery, your primary market is most likely people 45 and older, and in particular, women. After all, they are the ones often making the buying decisions.
That doesn't mean you should be ignoring younger demographics. There is a lot of value in reaching and engaging younger folks within your community on Facebook. Younger people are often more comfortable with social media and as a result generate more overall engagement. And even if these people aren't your target market, their engagement also helps spread your content to their networks, including their parents and grandparents. Plus, more engagement overall makes Facebook naturally spread your content to more people. In addition, they are going to be your target market at some point in the future, right?
But if the majority of your reach and engagement is coming from younger people, you're ultimately missing the big picture. You're fooled into thinking you're doing a great job with your Facebook marketing while in the end falling short of your business goals.
So how can you tell if your target market is engaging with your content?
It's easy: head over to Facebook Insights, which shows all the data for your page. Here's how:
If you're the Admin of your Facebook Page, you'll see a button at the top of your Page called Insights. Click that.

Next click on the People Tab

Then choose the Fans sub-tab.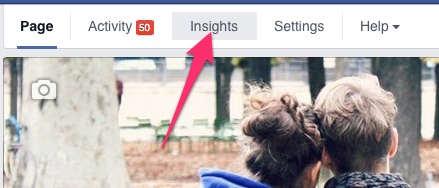 From here, you'll see the makeup of all your fans, based on age and gender, and how that compares to the overall demographics of Facebook as a whole. Here's an example of one of our partners, who has a out-sized proportion of fans in their target market!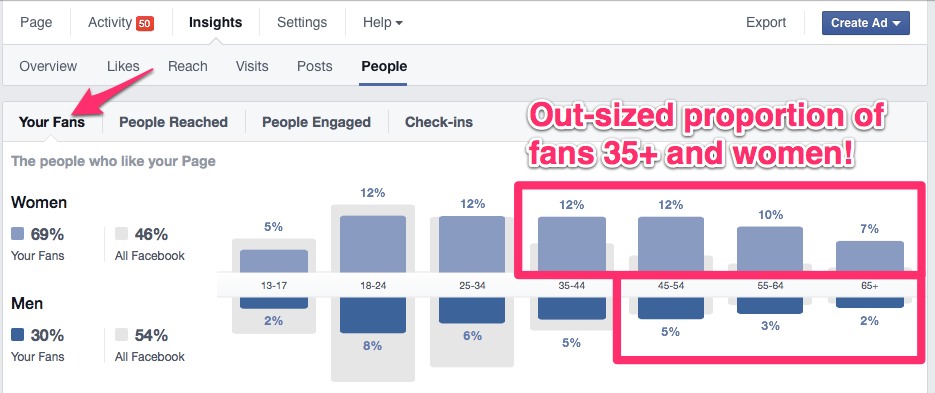 Next, click on the "People Engaged" sub-tab. From here you'll see the makeup of the folks who actually engage with your content – in other words, the people who like, comment, click on or share the stuff you post.
When you look at the demographic buckets, you'd like to see at least 50% of your engagement coming from your target market: people 45 and up. To determine your total percent, just add up the percents of all the bar chart starting at 45-54 and going to the right. In this sample, from one of our partners, you'll see that 68% of their total engagement comes from people 45 and up. That's a great result, and shows they are reaching and engaging their target market!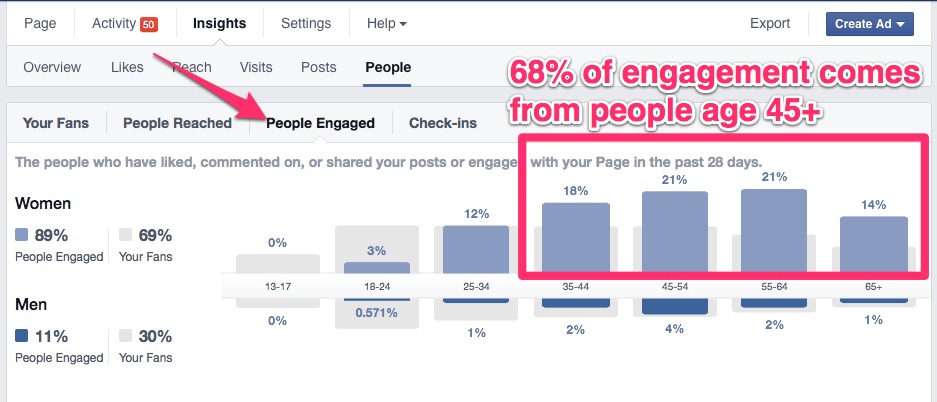 If you're not reaching enough of your target market, what can you do to improve? One way is to run targeted Facebook ads, to ensure the right people are being exposed to your page and your content. You can do that yourself, or you can entrust an expert by using our Social Media Copilot. We have extensive experience and proven success in boosting your reach and engagement of those people who are in your target market, helping you meet your marketing and business goals!
To stress the importance of engaging your target market, we've also added a new metric to our Facebook Power Rankings that measures your Demographics for you. Head over to our free Power Rankings to see how your demographic reach compares to other Facebook Pages in our industry.
Most importantly, as part of our Social Media Copilot solution, we have developed a proven strategy for helping funeral homes and cemeteries succeed on Facebook. No more guessing or hoping for success: we can guarantee it! Contact us today to learn more or to get started now.