Many funeral home and cemetery website providers lock their customers in with long term contracts. This is nice for the website provider, because then they know they'll be making money from their customer (YOU) for a long time, even if their service and offerings stagnate. In fact, since they've got their customers locked in, they are actually FAR less likely to continue to improve and innovate.
For the funeral home or cemetery, this can be a bad deal. We hear from so many death care firms that want to get a better web presence, but feel trapped by their current contract. Worse, their website mostly reflects the goals of their provider, rather than the individual goals of their unique firm.
In short, while you're locked in to a long term contract, you're stuck watching from the sidelines as great new features and benefits pass you by!
Ask yourself this: what new, valuable features has your website provider added to help your firm during the term of your contract? Next, compare your answer to our list of recent innovations below.
Technology advances quickly, and nobody is faster at implementing technology in new and beneficial ways than we are! Don't believe me? Check out the following top 10 things your website is missing if you're not on Funeral Innovations' Social Sites.
1. Modern, Responsive Design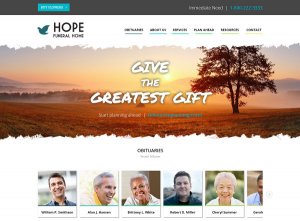 Your website design can make or break your firm's success online. A stale looking website reflects poorly on your brand and can result in people looking elsewhere for help. A difficult to navigate, or confusing site, is the #1 reason people click "back" in their browser and helps send them to your competition. Our sites are modern, beautiful, and finely tuned for easy navigation and use.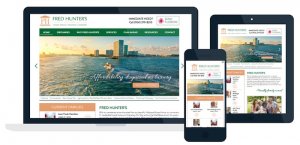 Further, over half of your obituary visits will now come from a smart phone or tablet. If your obituaries don't look and work amazing from a mobile device, you're going to have unhappy visitors and miss out on leads and sales. Our websites and obituaries are 100% mobile responsive, ensuring they look great on any size device while still reflecting a consistent branding across all devices.
2. Landing Pages
When reaching out to prospects with online and offline marketing materials, do you simply direct people to call you or visit your website? If so, you're missing a HUGE opportunity to generate targeted, qualified leads! Every piece of marketing, especially your digital marketing, should link to a dedicated landing page on your website designed specifically to generate interest and collect contact information from your visitors. Our landing pages ensure that for each of your services, you can build traffic and convert interest into actionable leads.
3. Facebook traffic
Even the best landing pages can't generate leads without visitors seeing them. That's why our Social Media Copilot intelligently generates interest and drives traffic to each of your landing pages from Facebook. We'll take your Facebook presence beyond simply posting content and start generating website traffic and leads from your community!
4. Lead Generation
Our "goal-driven" obituaries provide 10 different ways visitors can be converted to leads. Each hook encourages the visitor to enter their email address and opt-in to your automated email list and drip marketing. Grow your email list into the 1,000's with no effort required!
5. Healing Registry
Our industry exclusive Healing Registry provides an unmatched personalized experience. Much like a wedding or baby registry, the Healing Registry allows the family of the deceased to choose the flowers and gifts they'd like to receive, and encouraging the visitors to purchase gifts the family actually wants. And your funeral homes makes a 15% commission on all purchases!
6. In House Items
As a first of its kind offering, we've introduced the ability to sell in house products in addition to the turn-key flower and gift offerings within the Healing Registry. Want to provide Thumbies or Urns from your local inventory while still offering drop shipped flower and gift basket orders that require no work on your behalf? You can do it with our In House Product feature of the Healing Registry. Manage your products, set your price, and let the Healing Registry drive the sales.
7. Donations
Many families struggle to cover the cost of their loved ones funeral home. Some are even turning to crowd-funding sites to take up collections. With our Obituary Donations, friends and acquaintances can help contribute to the family's funeral expenses through a secure payment directly from the obituary!
8. Announcement Bar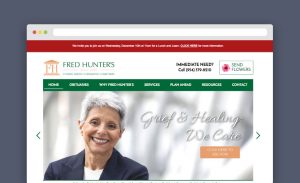 Generate awareness and buzz for your time sensitive announcements and events with our exclusive Announcement Bar. The Announcement Bar lets you highlight any event or pressing issue happening at your firm by appending the message you want to communicate at the top of every page on your website.
Are you phone lines down? Let every visitor know of your alternate number.
Having an upcoming event? Announce it to every website or obituary visitor.
Launching a new service or offering? Get the word out!
9. Grief Support (that delights)
Your firm needs to position itself as the go-to resource in the community for grief and healing. But face it, nobody wants to receive 365 pieces of impersonal emails on grief. That's overkill and more likely to annoy than delight. That's why we've created our exclusive Hope After Heartache e-Aftercare series. We send timely, personal messages on grief and healing that will result in dozens (maybe hundreds) of appreciative responses from thankful families. Check out just a few actual responses from families:
"Thank you ever so much for your encouraging messages. They have been helpful, appropriate, and in the right time interval for me."
"Know you have made a difficult time more peaceful"
"I want to take a minute to thank you for the e-mails about grieving that you have sent over the last six months. I found them to be very comforting and helped in understanding the feeling and emotions that I was experiencing."
10. Family Portal
The Family Portal lets the deceased's family manage the obituary, select gifts for the Healing Registry, manage tributes, view obituary visitor's contact information and share photos, all from their own personalized portal on your website! By providing more control and features directly to the family, you receive their appreciation and gratefulness for your amazing service.
Don't Let Another Day of Missed Opportunities Pass You By
These are all features we've released in the last year alone. Just think what else you might miss out on if you get locked into another web provider's contract for the next 1-3 years.
Whether your website contract is expiring soon, or you have awhile left, make sure you contact us right away to learn how you can convert your web presence from a static billboard to an interactive, engaging, and lead generating ENGINE.