We are happy to announce that we have 13 new newsletters to choose from in our Email Copilot, including one perfect for upcoming Father's Day. Simply log into your Copilot and choose which email you'd like.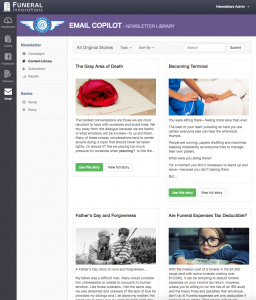 If you're not familiar with our Email Copilot, we offer one-click newsletters, where you are able to create and send a newsletter to your community in minutes! Email newsletters help you build brand awareness and offer emotional support year round. Plus, our newsletters look great when viewed on a smart phone, allowing convenience in reaching your families where they are, when they want a moment to reflect. Our newsletters offer a gentle outreach, rather than a pushy message.
Don't delay! Get your Father's Day newsletter out this week and take a look at the other new newsletters as well.
Do you have a newsletter topic you'd like to share with your community that you don't see in our Copilot? Let us know! Have you already checked out our new newsletters? What do you think? Share in the comments section below.