As people spend more of their daily lives plugged in, businesses have shifted the way they reach out to their target consumer. Funeral Directors and employees at death care firms are no different. You want to meet potential customers where they're at and and that's online. Below are seven tools Funeral Innovations have found to be crucial when generating business.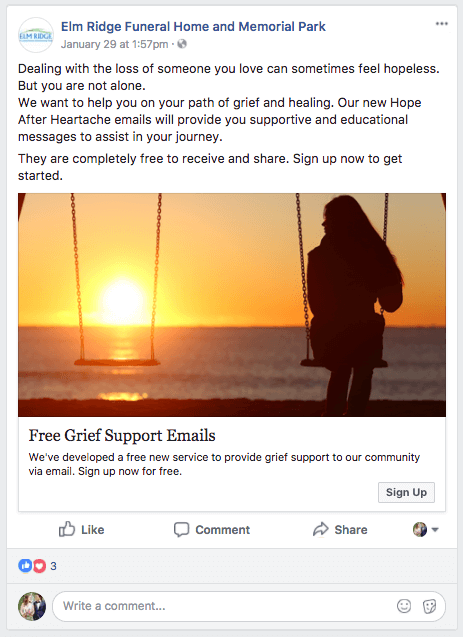 1) Facebook Ads
Facebook Ads are one of the 'easiest' ways to reach out to your community. With more than 2 billion active users on the platform, this channel boasts a large audience that is constantly engaged. Not only can Funeral Homes post updates on the firm's Facebook Page, but creating Facebook Ads can reach more eyes in the community.
These ads help with brand awareness and can be used to collect contacts. Contact information can be collected once that person clicks through on the ad. This information can be as simple as a name and email, but it creates a connection with your brand and the ability to continue future communication with this potential customer.
2) Facebook Targeted Audiences
Using Facebook's Targeted Audiences is a second way to leverage the power of this social media platform. You can create custom content that drives engagement within your community. Holidays are a perfect way to distribute content to a specific group of people. For example, if Brown Funeral Home has written a "Memorial Day with Family PDF" that focuses on Moms and Grandmas, our team can create a sponsored Facebook Campaign targeted to a specific audience. These audiences can be Women 30+, Adults 30+, Adults 50-65. Audience types can be as basic age range or as specific as geography, job title and more.
These target audience Facebook posts are a way to been seen at the 'right place' and 'right time' with the opportunity for lead generation.

3) Nurturing Contacts
According to SalesForce, it takes an average of eight 'touches' before a contact has a conversation with your brand. That's why nurturing contacts is so crucial for online marketers. The process is a marathon, not a sprint. Email marketing is an easy, efficient and effective way to nurture your base.
Email marketing allows you to consistently reach people over time. It is one of the most effective, yet underused, components of digital marketing. Use monthly newsletters to build awareness for your brand. Announce a new service, promote your events, generate business and go more in depth on a particular topic than you can in other mediums, like social media. Newsletters are measurable and trackable. Utilize email reports to improve your content or trigger actions on email as follow-up calls for your sales team.
4) Multi-platform delivery
Using a multi-platform delivery strategy is another great marketing hack that gets your content in front of more people across multiple channels. Save time by taking one piece of content and repurposing it to fit your delivery needs. '7 Online marketing hacks every Funeral Director must know' starts out as your blog post, then shorten the post to fit into your weekly newsletter and finally using the same information but using it in a short 60-second clip for Facebook.
5) Facebook Posting
79% of adults in the U.S. are on Facebook and the best way to reach people is where they spend most of their time. At Funeral Innovations, we create a quality stream of Facebook posts (articles, quizzes, tips, inspirational images and more) that drive traffic to your Facebook Page and custom landing pages.
Delivering content more frequently can set you ahead as a top marketer in the death care industry. Frequent posters (those sharing 2 or more times per day) see the biggest audience reach and higher fan engagement on average than marketers posting less. Funeral homes that post frequently (more than once per day), actually see 41% more reach per post than those posting daily or less. The real value of posting frequently is that you've got more posts to build your total reach.
Creating a customized Facebook post surrounding specific holidays (like Memorial Day), shows your followers you can connect with them on a deeper level that goes beyond the name of a funeral home. Creating frequent Facebook posts that resonate with followers helps build trust and moves them further along the buyer's journey.
(click to read the article: How Often Should You Post on Facebook?)
6) Facebook Fan Growth Ads
If your page is still in its early stages and needs more followers, it's important to use Facebook Fan Growth ads to expand your Facebook page audience.
Fan growth ads are ads that build up the number of likes for your page. It's great if you have quality content ready to post, but not helpful if it only gets seen by 15 Facebook followers. These ads help build your following so your content will be consumed by more people in your community. If you reach 400 followers (as opposed to 15 or even 50), there is a better chance of getting click throughs to your website.
Facebook growth ads are just a piece of the overall Facebook Marketing Strategy. Once you've reached a benchmark goal for your social media following – your marketing team can focus on reaching more customers organically or creating more targeted posts with custom content.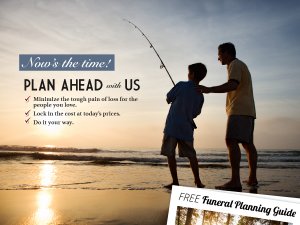 7) Promote Creative Offerings
Another great marketing tool for Funeral Directors is promoting creative offerings. Ticket giveaways, educational PDFs, checklists, Email Series and Video Testimonials are different mediums in which to reach your potential customer and educate them on your brand.
Gated content is a great way to move your contact through the sales funnel. The contact provides you information through a form in order to view this type of marketing material. Your relationship with the contact builds as you earn trust with this potential buyer. Variety in content shows you are a well-rounded, trusted authority in grief and death care services.