What is Facebook Live?
Facebook Live is a feature of Facebook that uses the camera on a device (computer, laptop, tablet, smartphone) to broadcast real-time video to Facebook. Individuals on Facebook as well as Facebook Business Accounts can broadcast on Facebook live, deciding to make their video available to friends or publically to all.
Determine what device you will use to stream
You can use a cell phone, tablet, laptop with camera, or professional quality videography equipment. If you don't have access to professional equipment, it's perfectly acceptable to start with a smartphone, as most now provide a high quality broadcast.  
You can purchase an affordable microphone to connect to your device. We don't recommend using the built-in audio in a large room (for streaming a  funeral service) however the built-in audio usually works great for close up recordings. A connected microphone will create a better audio quality. There are affordable options available that connect directly to a smartphone.
A small investment in a tripod to hold the device you'll be using is well worth it to avoid distractions by having a still broadcast. It's also worthwhile to check on your broadband connection to make sure it's strong enough.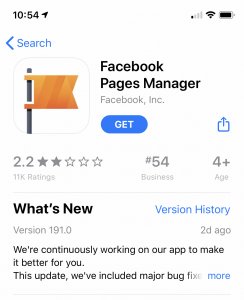 Install the App
Install the Facebook Pages Manager app to the device you'll use. You can use the standard Facebook app, however if you do, be sure you are on Facebook as your Funeral Home's business page, not your personal page.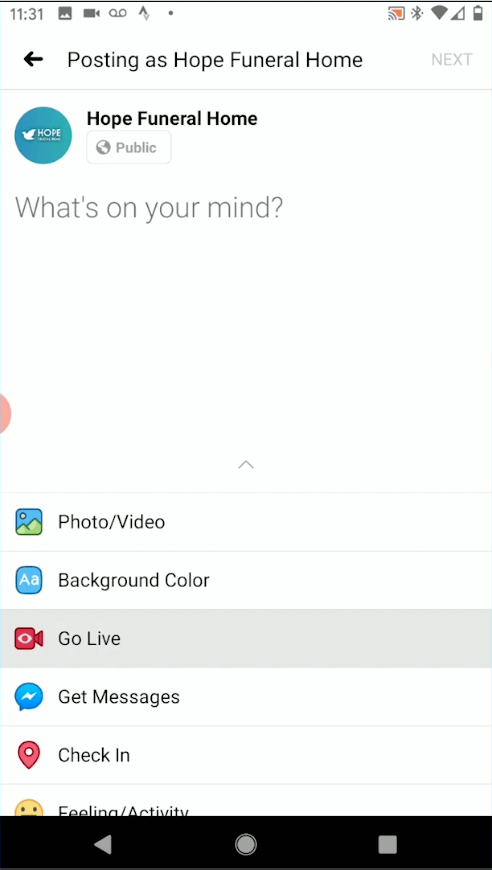 Get Ready
In the Facebook app, tap "Go Live" to begin to compose a status as you normally would or simply click on the Facebook Live icon.
On iOS, a list of options will show up below the text field, tap on

Live

Video > Continue.

On Android, tap on Go

Live

, then Continue.
Be sure to give access to your microphone if needed.
Title your Live video (e.g. "John Smith Funeral Service") and set the location to your funeral home. This will help people to associate this video with your firm. 
Set the level of privacy to public. 
Choose orientation of video – landscape or portrait. You cannot change orientation after you are live. When streaming a funeral service, landscape orientation is best as it has a broader view to show more of a service.
Go Live
Tap the blue button to go live. You will see that you are live from the white "LIVE" text on the red rectangle in the top left corner.
Tap finish button to end live video.
Save and Share
Share video to your Facebook page. This is how people can come and view the funeral service live stream at a later time.
Practice in Advance
A great way to do a practice run of Facebook Live is to record yourself or someone else on your team giving a quick announcement that you will be doing Facebook Live broadcasting of services in the future. This short announcement will inform your community of the new offering you have, plus give you space to practice a bit without the pressure of a funeral service. Be sure to test out lighting, sound and other surrounding elements.
Before Streaming a Funeral Service
Be sure to let people know when you will be going live, what to expect, ways to participate etc. If you would like assistance in letting people know before the service is live-streamed, we have automatic notifications solution available. A few simple steps and they're set up to notify those who view the obituary of the upcoming service.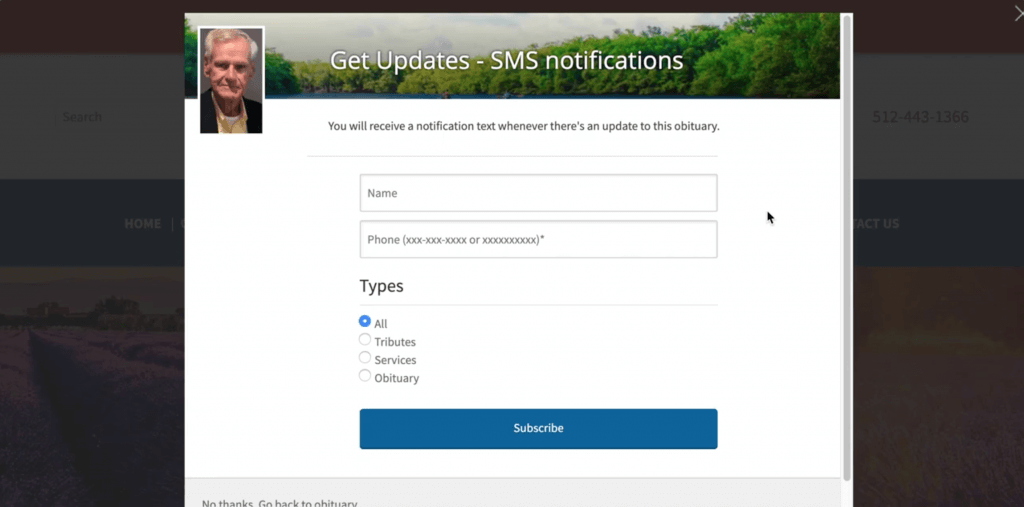 Music Licensing
NFDA music licenses allow replays of a Facebook Live video after the initial stream, whether it's saved on your Facebook Page or embedded on a website.
Know that Facebook may flag your Facebook Live video, most likely because they think you are infringing on the music licensing/copyright. You will need to dispute the flag. (See more below) 
Music that is under public domain won't be flagged by Facebook. A song written before 1924 is considered public domain.
Can someone without a Facebook Page watch the live stream? 
If the live stream is from a public page and is open to everyone (set as share to public), you can watch it without a Facebook profile (or without logging in). Your firm page is a public page, so your community members can watch without a Facebook page. 
As long as someone has the link to your firm's Facebook page, they will be able to access the stream when it occurs.
But if you want to watch your friends' live stream and they set the privacy to "friends only", you need to log in to watch the live video.
Ideas to get audiences to participate during your Facebook Live
Invite those attending via Facebook to comment with a welcome message or one of support for the family and all grieving.
If I have an NFDA music license what do I need to do before streaming? 
Nothing. You can't enter anything beforehand. You just have to react if Facebook flags and blocks your stream after.
If Facebook flags a video during the broadcast, will the recording just stop, or will it warn us?
I haven't seen it stop a live recording. It's typically flagged afterwards, once the video is on your Facebook page. It'll then notify you that it infringes on copyright and lets you provide an explanation (make sure to mention your license number) or delete it from your page. In the meantime, the music will be muted.